The Big Ten has always been this mess
When you want to be both the Ivy League and the SEC, sometimes you end up neither.
Hello and welcome to another week of … college football season? You can join us in our Discord, by way of our Patreon, as we observe whatever this will be.
Also, subscribe to this free newsletter if you like:
One more preamble thing: college football in 2020 is uncomfortable at best, all potential solutions are accidental, and everything else is also a mess. Just cancel everything but bowl games.
---
In 1950, the NCAA's schools were debating whether to boot seven of their peers for the high crime of paying athletes. The Sinful Seven were Maryland, Virginia, Virginia Tech, Boston College, Villanova, VMI, and The Citadel. 
The big three Southern conferences — the SEC, SoCon, and Southwestern — promised to stand with the Seven. The Southerners reasoned that they, too, had paid players and didn't want a bad precedent. 
On the other side, there was one big fish: the conference that would soon start calling itself the Big Ten.
The proto-Big Ten was a weird choice to be the NCAA's sheriff's deputy. Its schools had done plenty of dirt themselves, whether paying players or not making them go to class. And the Big Ten had long been home to national superpowers. Michigan had a recent national title. Ohio State was days removed from a victory in football's most lucrative bowl.
"A school like Ohio State claims to comply with the Code, yet it comes up with a Rose Bowl team," Curley Byrd, Maryland's president, noted to the press. "What practices did they employ to build those teams?"
The proto-Big Ten couldn't whip enough votes, and some dopes eventually wrote an entire Western around this story, now available for a mere $14.99. 
But the Big Ten never stopped being a land of contrasts. 
The Big Ten spent the post-Sinful Seven years making a show of agonizing over paying for athletic scholarships while also filling 90,000-seat stadiums. For a while, the Big Ten didn't let teams play in bowl games at all, viewing them as an incursion on academic missions. Eventually, the conference went to great pains to allow member schools to make Rose Bowl money.
This push and pull happened on individual campuses, too. In 1961, Ohio State's faculty council denied Woody Hayes' team a chance to play in the Rose. A reported 10,000 students turned out to protest, and Hayes egged them on. Let me know if that sounds familiar. 
The Big Ten has always tried to hang with both the biggest football conferences and the most righteous academic alliances. In 2013, commissioner Jim Delany threatened to drop to Division III if rules allowed athletes to be paid. He said DIII would "be more consistent with the Big Ten's philosophy that the educational and lifetime economic benefits associated with a university education are the appropriate quid pro quo for its student-athletes." A few years later, the Big Ten became the first league to distribute $50 million a year to its member schools through its television agreements with ESPN and Fox. 
You can pretend to be both the SEC and the Ivy League, but it won't fool anyone for long.
The pandemic made that as clear as ever. 
If it was hard getting institutional priorities in order with nine or 10 schools, it has gotten harder as the Big Ten has grown to 14 in the pursuit of all that TV money. It's no big wonder that Nebraska, Northwestern, Ohio State, and Rutgers won't always agree on the best courses of action during dueling public health and economic crises. 
I don't know why the Big Ten was the first power conference to call off college football in the fall of 2020. I wasn't in the room, and conference leaders have not been forthcoming about their specific reasoning, despite plenty of fair reasons to take a raincheck during a once-a-century pandemic. 
At the same time, I know exactly why the Big Ten was first. It's the same reason the Big Ten has ever done anything: the desire to strike the best-looking balance between appearing to care more than its peers about student-athlete wellbeing and appearing to care just as much as anyone about football. The Big Ten thought everyone else would eventually cancel too, so instead of coordinating, the B1G's presidents raced to be first to reach The Right Side of History. The conference had already moved in this direction. When the Ivy League canceled fall sports, the Big Ten announced a conference-only schedule the next day, without tipping its hand to other Power 5 leagues. Why share the credit for being so wise? 
The Big Ten's calculus turned out to be wrong. The Pac-12 agreed and announced as much the same day. But the SEC, Big 12, and ACC have forged ahead. So far, the Big Ten has gotten the bulk of public scorn, both because it has more football-obsessed fans than the Pac-12 and, to some small extent, because the Pac-12 explained its reasoning. (Just look at that 12-page PDF, even if most people didn't.) 
The Big Ten could've saved some face if it'd waited longer. Maybe other conferences would've jumped too, or maybe the Big Ten could've created an accidental bubble. 
The conference made other mistakes, including being needlessly cagy about whether the cancelation vote was unanimous (it wasn't, and we only learned this because the Big Ten had to respond to a lawsuit by Nebraska players) and releasing a revised schedule only six days before calling off. 
Would doing everything perfectly have saved the Big Ten from some sort of public squabble? No. But the conference has spent decades cultivating a rabid culture of football fandom and, at the same time, insisting it was the most committed guardian of things more important than sports. 
The Big Ten's split personality has created a mess.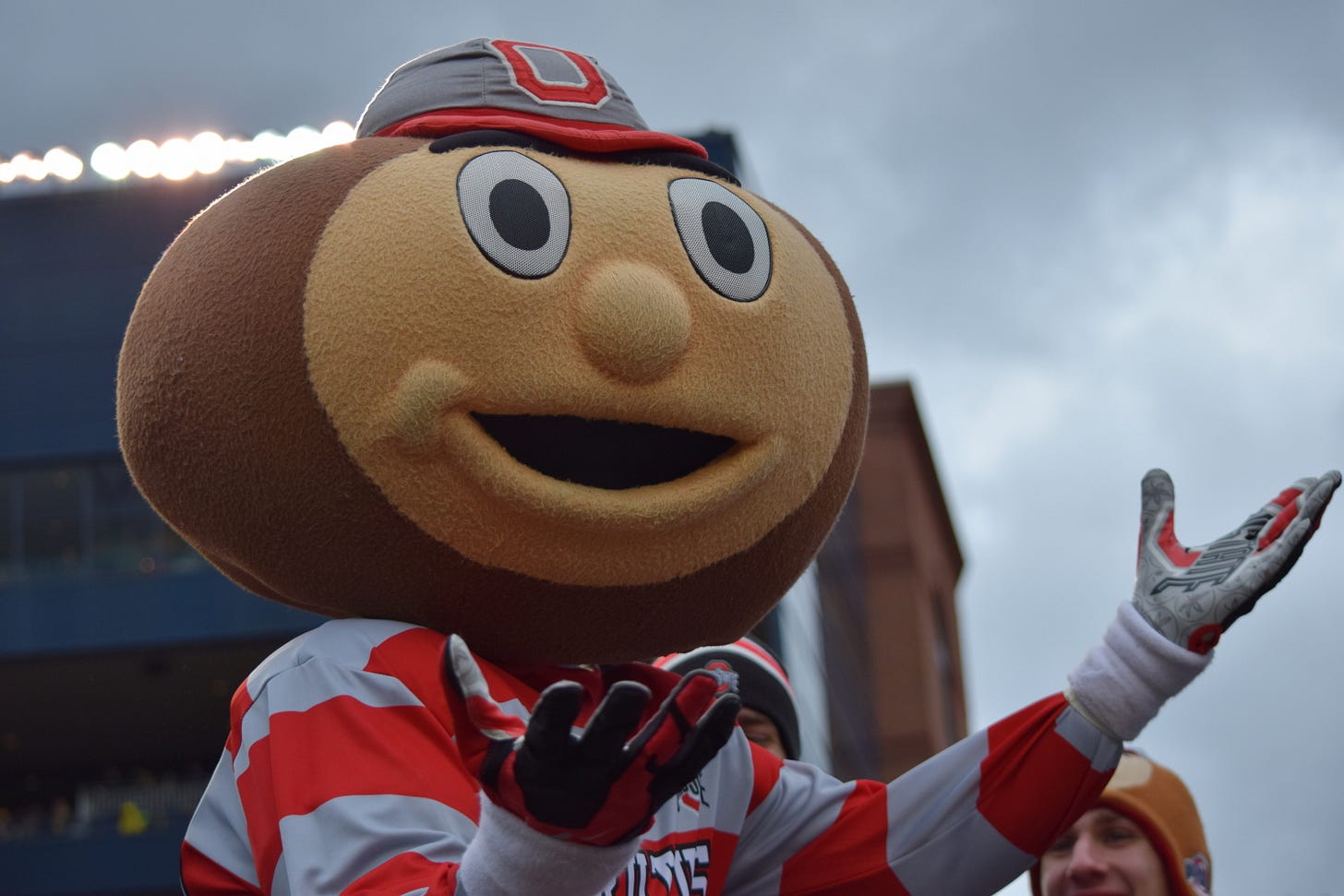 Ohio State University
You have wildly incorrect conspiracy theories about why the league canceled: 
To stick it to players like Justin Fields, who had made #WeWantToPlay a national story. (The Big Ten doesn't make decisions that could cost hundreds of millions of dollars because it wants to silence a Twitter movement that'd been popular for two days at the time.)

To prevent players from organizing for more rights. (If that was the plan, it failed spectacularly, given how organized players have been since, with some joining protests and others taking the conference office to court.)  

Because the liberal academics who serve as school presidents wanted to hurt Donald Trump in battleground states. (Former Indiana Republican governor and current Purdue president Mitch Daniels voted not to play.) 
You also have Trump, who left the Tua Tagovailoa championship game at halftime, pretending to care about Big Ten football in the hopes he might scrounge up Midwestern votes as he trails in the polls. 
You have grandstanding attorneys-general threatening the Big Ten, whether over its non-profit status in Nebraska or with a lawsuit in Ohio. 
You have university presidents quietly evading public responsibility, even though 11 presidents (not commissioner Kevin Warren) cast the decisive votes. Michigan's president hadn't even talked to his subordinate, Jim Harbaugh, within three weeks of voting not to play. 
You have Harbaugh, Ryan Day, James Franklin, and Scott Frost, the four highest-profile coaches in the Big Ten, more or less daring the league in public to reverse course.
You have an athletic director, Penn State's Sandy Barbour, casting doubt on whether the Big Ten presidents voted at all. 
You have a school president, Rutgers' Jonathan Holloway,  making clear how little patience he has for athletic professionals. "If I'm wrong because I was erring on the side of safety, I don't have a problem with that," he says. 
Of course you have coronavirus truthers throwing more fuel into their lucrative media grifts.
And you have players and families who are understandably pissed as they lose something important without a great window into why, while their peers in other leagues play on. 
The Big Ten set up that mess long before 2020. 
The conference didn't create the dynamics that define the modern internet and sports media. It didn't fail to control a global pandemic. Ultimately, it might be getting shellacked for making the right decision. 
But the Big Ten spent the better part of a century creating a myth about itself, that it could be the purest of both higher education and college football at the same time. It had at least 70 years to make itself less vulnerable to precisely this kind of split.
---
Our book about all of this and more — which is also a book about lady gangsters, talking bears, and ghost assassins — is available at Gumroad, Apple Books, Google Play, and Barnes & Noble. The Gumroad version includes files for Kindle, PDF readers, and whatever else.