One thing would've saved 2020 college football
CFB became a profit juggernaut by not empowering players. Schools are now learning what that costs.
It'd be great if you told a friend to subscribe to this free newsletter. You could also buy our critically acclaimed ebook (here are some of our reviews, and it now averages 4.75 stars on Goodreads) about the Wild West history of college sports.
If you're interested in supporting our work, you're also free to donate to our Ko-fi page.
Now here's something I drew, followed by a newsletter: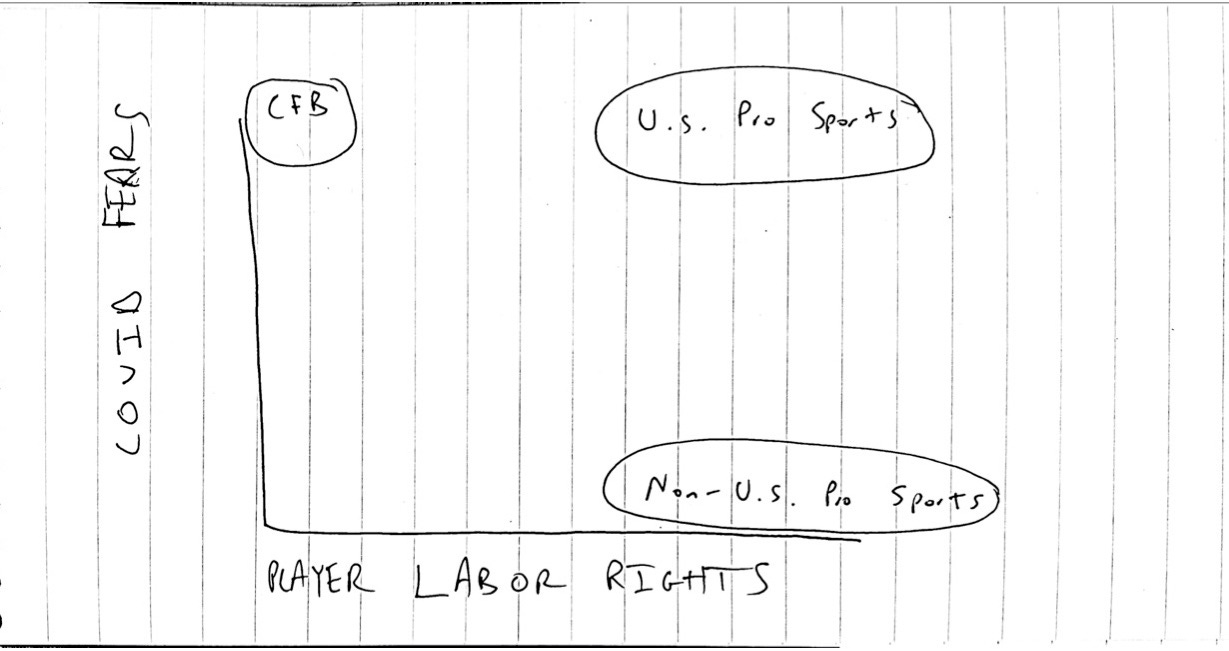 This summer, Big Ten administrators started to worry about myocarditis, a long-term heart inflammation that might be linked to COVID-19. ESPN reported at least five Big Ten athletes had been diagnosed with it, and that leaders across the league – "presidents and chancellors, commissioners and athletic directors, and health advisory board members" – had been weighing myocarditis as a factor in whether to play a 2020 season.
August 11, the day after that report, Big Ten presidents called off the fall season. The move infuriated players, coaches, and some other university leaders. Big Ten players had just helped to make #WeWantToPlay a national story.
Some of their parents ended up outside B1G headquarters, protesting the postponement. It was clear a lot of players, probably a significant majority, wanted to play. But they didn't have a vehicle to make those intentions clear in any kind of legally binding way. 
A passionate Twitter campaign doesn't absolve the Big Ten of liability if a player gets the virus and turns up later on with a chronic heart condition. 
And college presidents do not like facing legal liability. 
One thing that could've resolved the issue, or at least gotten Big Ten players to a better place of understanding? A players' union. 
It's not just the Big Ten. The 2020 season is increasingly lost, and a lack of player power is a uniquely college athletics reason why. 
College football grew so sprawling and so profitable over generations because amateurism kept payrolls low, even as Power 5 schools each made tens of millions of dollars a year in TV money. In a sad irony, athletic departments are now heading for financial ruin because that lack of player representation will mean many schools skipping the season. 
The biggest reason for college football's current problems: America has blown its pandemic response. But every other major American sport has had to deal with the same pandemic. So why are the NBA, MLB, and NFL in better shape than CFB?
I don't think the reason is complicated. All those other sports have players' unions. It turns out it's not easy to restart a sport in a pandemic without players having an official voice. The people who have long argued amateurism is key to the sport's survival have played themselves. 
College football conferences are canceling their seasons at a cost of hundreds of millions of dollars. Why? 
Is it because playing football, even amid a pandemic with no fans in the stands, isn't worth the financial while? No. Big Ten schools would've made $50 million this year from media rights, a sum almost entirely attributable to football. The loss of the football season has already prompted devastating cost-saving measures all over the board. 
Is it because football is too dangerous to the athl – lol.
Is it because colleges are especially worried about community spread of COVID-19? That can't explain all of it, given how many universities have attempted to bring thousands of undergrads back to campus – most of whom are getting tested less frequently and living in less regimented environments than football players are. 
Is it because the players don't want to play? Again, no. Definitely not. 
We're losing 2020 college football because college football didn't empower its players.
Every other major sports league has returned to something resembling usual business. Nothing's normal in the NBA bubble or an empty MLB ballpark, but games are happening.
To get there, those leagues bargained with their players' unions.
In the NFL, there are 2,000 players. Roger Goodell's lawyers didn't track them all down and negotiate with each to make sure the NFL wouldn't get sued if someone developed a long-term condition. In the NBA, Adam Silver didn't tell 30 teams to come up with their own safety procedures; the league did it and negotiated those procedures with one players' union. In MLB, the AL East didn't come up with different protocols than the AL West and hope respective players went along with them. 
All of these sports are back, because the people in charge were able to make deals to protect themselves if something went wildly wrong. 
To make those deals, they needed negotiating partners with the power to make deals themselves. They needed players' unions. 
Unions are a source of labor power, and the NCAA's traditional economics do not work if the labor has power.
If players formed unions, those unions would ask for things beyond just players being allowed to profit off their own names. Perhaps they'd ask for a revenue-sharing arrangement, as Pac-12 players did in early August.  
Only one team union drive has gone public in modern history: Northwestern's in 2014. The school and NCAA fought it intensely, and the National Labor Relations Board squashed the effort. The board thought a union at one school would mess with competitive balance (that thing CFB's always been known for) and cause problems for NCAA enforcement (yeah, probably). The union would not promote "stability in labor relations," the board said.
Now, not having players' unions has threatened the "stability" of an entire season.
A defining theme of college sports, going back well over a century, is that nobody is in charge. (We wrote a sci-fi Western about it.)
In the NFL, Goodell takes orders from team owners, but he's the boss when it's time to negotiate with the NFLPA. In the NCAA, president Mark Emmert has no such authority. University presidents and conference commissioners make the big decisions individually or in small groups, which isn't ideal in a pandemic.
Schools tried to figure it out on their own. For example, Ohio State asked individual players to sign COVID liability waivers, then denied its COVID liability waivers were COVID liability waivers after media found out about the COVID liability waivers. It was obvious to most people how wrong it was for college football teams to "ask" their players to sign waivers, given all the ways "amateur" athletes could be coerced. (The threat of lost playing time, a lost scholarship, or being seen as not wanting to play ball with your brothers are a few.) 
Maybe the sport could've figured it out on a conference-by-conference basis, except there was still nobody to negotiate on behalf of the players. What group would the Big Ten office have dealt with? 
Leagues and schools could have tried to jam through liability waivers anyway, absolving themselves if someone developed a chronic condition so he could take part in Rutgers losing by 56 points to Michigan. Except it could have been more than a PR hit. U.S. senators started making noise about player liability waivers, and the NCAA has to take U.S. senators seriously right now, because it's trying to get them to give the NCAA an antitrust exemption, so that the NCAA will be protected against having to pay players in the future. So, the NCAA banned teams from requiring players to sign waivers. 
As I wrote for Matt Brown's Extra Points newsletter ($), the situation could have been manageable without a capital-U Union. A mixture of state laws and NLRB decisions would prevent a lot of athletes from unionizing, but players could set up a trade association or group licensing body.
Even within those constraints, conferences could have shown some humility and set up ad-hoc committees back in the spring to negotiate with players over how college football would operate in 2020.
But administrators weren't required to invite players to the table early on. So they didn't. 
A players' union would have solved so many other problems too. 
Athletes would have an avenue to negotiate not just for rigorous COVID-19 protocols, but also for the kind of long-term medical treatment schools have never provided. 
The sport might even be forced to deal with its original sin and share revenue with players.
Some of that revenue would come from college football video games. Veterans of the college sports gaming industry have explained to me at length that the lack of a group licensing vehicle for player likenesses (like the NFLPA for Madden) is the biggest stumbling block to EA Sports getting back into the NCAA Football business, in tandem with the NCAA rule that prevents players from cashing out on their names, images, or likenesses. 
Indeed, a players' union is one of the most direct routes to you being able to build a Big 12 dynasty with the North Texas Mean Green. 
Instead, in 2020, college football might barely happen at all. 
You said you wouldn't watch college football if the players weren't amateurs? Congrats. You can't watch much college football this year because the players are amateurs.
If you're a college football player and want to talk about organizing with your teammates, email me at askirshner@gmail.com or send me a Twitter DM. If you're NOT a college football player and want to talk about organizing anyway, please feel free do the same thing. 
Also, if you're interested in subscribing to Matt Brown's Extra Points newsletter, where I wrote something this week, here's a discount code for 30 days free. Matt publishes a few free, in-depth newsletters per week about the business of college sports, but a subscription gets you access to extra newsletters and podcasts. He's a good friend and his work is essential.