PREAMBLE: Hello, how are you today? Good enough, I hope. If you'd be so kind, perhaps invite a friend to subscribe to this newsletter, check out the Weird Western College Football ebook that currently has a higher rating on Goodreads than any other book you've ever read, and/or listen to the Shutdown Fullcast's Golf Disasters episode, recorded in celebration of the annual Charity Bowl raising more than $450,000 for refugee charity New American Pathways?
As always, you are also free to donate me, Spencer, Alex, and Richard a few bucks at our Ko-fi page. We're also working this very day on figuring out some merch options and stuff.
---
The latest battle in the 151-year Culture War that is college football fandom: when, as of August 2020, should each college next play football? 
(We have so many battles of such frequency that another ongoing battle, the one about players exposing the fragility of amateurism, has already fallen back to secondary battle status for the moment. It'll pop back up before long.)
You have your SHUT IT DOWN THERE IS A PANDEMIC guys, your IGNORE THE SEVEN TRUMPETS AND GET IN A THREE-POINT STANCE guys, your THE SPIT TECHNOLOGY WILL SAVE US UNTIL THE VACCINE TECHNOLOGY SAVES US SO PLAY FOOTBALL guys, your EHHH LET'S TRY IT FOR LIKE A WEEK guys, your PLAYERS WILL BE SAFER ON CAMPUS LIKE WILL SMITH IN "I AM LEGEND" guys, your JUST WANNA ARGUE ABOUT WHICH CONFERENCE IS BRAVER (THE ONLY THING I DO WITH ALL MY TIME ANYWAY) guys, and whole taxonomies of other guys of all genders. 
Amid all these shifting alliances, maybe you don't quite feel like you have a place on the battlefield yet. Well suit up, soldier. I'd like to invite you to become a CANCEL EVERYTHING BUT BOWL GAMES guy.
It's got something for everyone: 
No football for a while!

Football eventually!

Football after several extra months of delay, ensuring more time for various miracle technologies to become cult obsessions for like a week at a time until one of them maybe kinda works.

Sneaking all football between fall and spring semesters, meaning the NCAA's schools no longer have to deal with the awkwardness of quarantining only certain kinds of students, the ones who happen to produce television revenue.

Standardized schedules across every conference (because one game is the same amount of football as one game, in my opinion), as part of the same season. I'd guess the Pac-12, Big Ten, and company would opt to participate in bowl-only season, rather than proceeding with being the 2021 AAF/XFL. 
And we won't have to worry about failed states like Rutgers or Liberty becoming superspreaders to a whole bunch of other campuses, since each team will first enter the BattleFrog Fiesta Bowl Bubble or the Cheribundi Tart Cherry Boca Raton Bowl Bubble for two weeks, then play no other games after leaving.
We'll have a tidy 65 bowls, then vote on the national champ. 
If any team opts out, we won't shame them for this choice. North Dakota State then gets to replace that team. (A diabolical opportunity awaits: being matched against a wobbly power like Stanford or South Carolina, then tagging in the mfing Bison.)
How will we pair these bowls? The options are endless.
Bowl-Only Season scheduling option 1: Geography
Some of these are simple. Houston-Rice in the Houston game we can choose to resume calling the Galleryfurniture.com Bowl. Boston College-UMass Fenway Park Bowl (a real thing for the version of 2020 that was scheduled to happen, yes). Georgia Tech-Georgia State would be unlikely to deserve a Peach Bowl in any other reality, but in 2020 reality, everyone deserves everything/nothing.
UCF's Orlando hosts roughly 17 bowls per year, so surely one of those will mean UCF gets a shot at a big team, right? Then again, nearby USF's Tampa also hosts one that might have to draw Florida State, and Miami-FIU will need to be the Orange Bowl, so … well, UCF might be stuck playing FAU, but at least they get to play 17 times in Orlando and also once in the Boca Raton Bowl. (Look on the bright side: maybe Florida has to play Georgia Southern again.)
The current bowls map tilts heavily toward the South. None of the Big Bowls is north of the Rose in Los Angeles County. Fortunately, we're adding a couple dozen games to the current list, meaning friendly confines for all. Syracuse-Buffalo Niagara Bowl! 
We can do wacky college basketball shit. Hawaii and San Diego State, maybe you're meeting on a series of aircraft carriers tethered to each other. 
This can also preserve lots of rivalries, ensuring our only burst of football in 2020 is full of that thing we love most: hate. Oregon and Oregon State, you already live on each other's porches. Just take a walk down the driveway and settle this at the 2020 Harrisburg High School Bowl in Harrisburg, Oregon.
OK, map time. Let's scrap all that and do this for real. Click to zoom way in, because there is not much room within an email app for a map with 130 locations.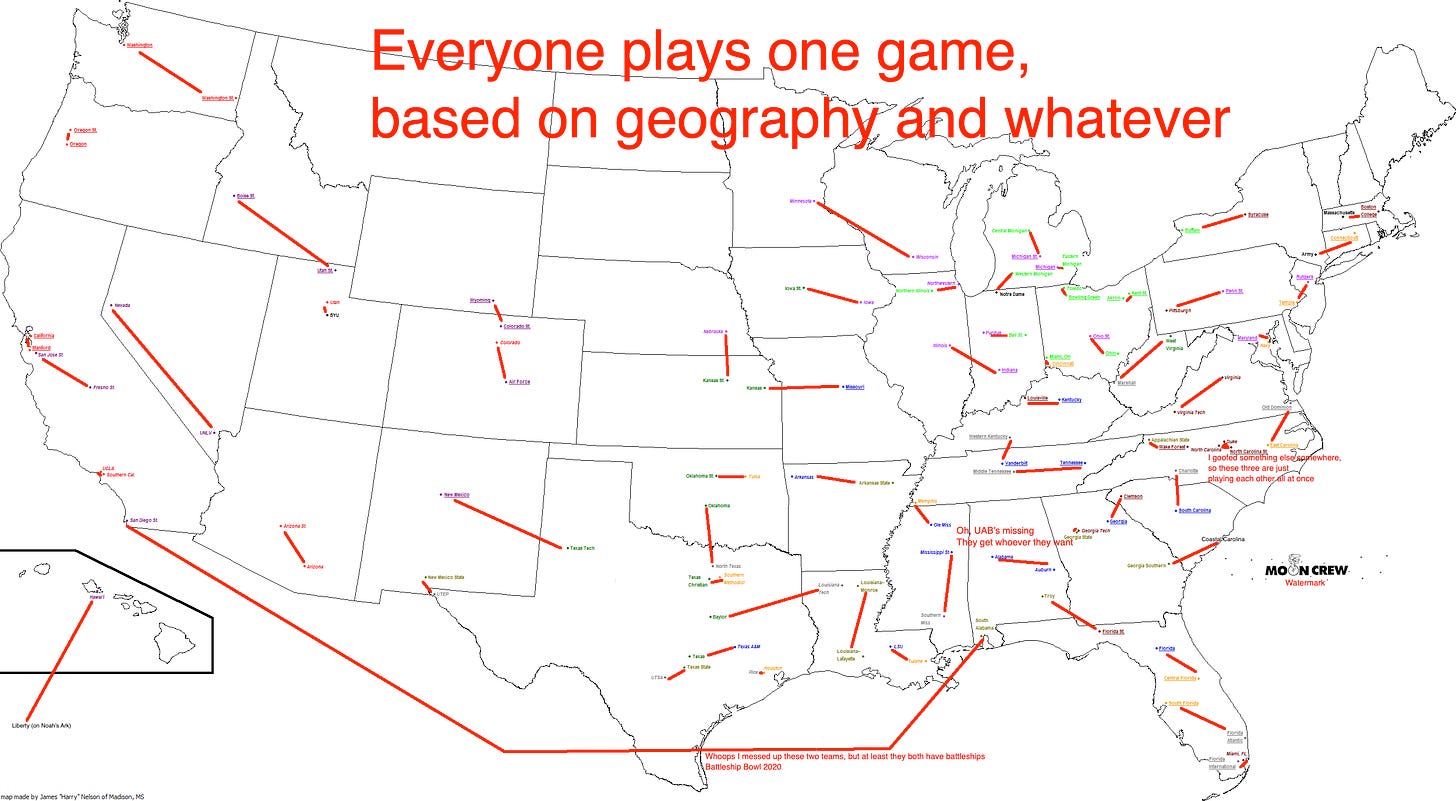 Bowl-Only Season scheduling option 2: Rankings
This is college football, so we all know what will happen once we have 65 teams finishing the one-game season undefeated: 65 national championship claimants. (A joke about a specific university goes here. But remember to dazzle your friends with your historical knowledge by reverting this joke toward the team it was originally about: 1941's two-loss, #20 Alabama, a far more egregious title claim than 2017 UCF's.)
We'd also like to give everybody a fair matchup, ensuring honest competition and earned achievements.
So let's at least add some order here. I've used Bill Connelly's preseason SP+ rankings and my own ranking of current/defunct bowl games by proprietary Prestige Factor algorithms* to bring you this:
Rose Bowl: #1 Alabama vs. #2 Ohio State

Cheez-It Bowl: #3 Clemson vs. #4 Georgia

Sugar Bowl: #5 Penn State vs. #6 LSU

Orange Bowl: #7 Florida vs. #8 Oklahoma

Cotton Bowl: #9 Wisconsin vs. #10 Texas A&M

Fiesta Bowl: #11 Auburn vs. #12 Notre Dame

Peach Bowl: #13 Oregon vs. #14 Texas

Bacardi Bowl: #15 USC vs. #16 Michigan

Popeyes Forever Bahamas Bowl: #17 North Carolina vs. #18 UCF

Citrus Bowl: #19 Tennessee vs. #20 Minnesota

Outback Bowl: #21 Oklahoma State vs. #22 Memphis

Bad Boy 'O' Bitbeef Gasparilla Seasteaders' LAN Party: #23 Miami vs. #24 Washington

Duke's Mayo Bowl: #25 Nebraska vs. #26 Florida State

Maui Jim Maui Invitational: #27 Indiana vs. #28 Kentucky

El Assico: #29 Iowa vs. #30 Iowa State, because El Assico is unkillable. It's true. They once went 43 years without meeting, to little avail.

Sun Bowl: #31 Utah vs. #32 Virginia Tech, a pairing that sounds like every modern Sun Bowl anyway. This bowl used to be important!!

Alamo Bowl: #33 Baylor vs. #34 Cincinnati

Las Vegas Bowl: #35 South Carolina vs. #36 TCU

Gator Bowl: #37 Ole Miss vs. #38 Boise State

Music City Bowl: #39 Appalachian State vs. #40 Arizona State

Liberty Bowl: #41 Louisville vs. #42 Pitt

Astro-Bluebonnet Bowl: #43 Mississippi State vs. #44 Virginia

Normal Big Ten game: #45 Michigan State vs. #46 Purdue, an event you'd dread if it happened on an October Saturday at noon, but an event you'd cancel everything for if it happened right now.

Holiday Bowl: #47 Washington State vs. #48 Stanford

Journalism Bowl: #49 Missouri vs. #50 Northwestern

Poinsettia Bowl: #51 RAGIN' CAJUNS vs. #52 Cal

Hawaii Bowl: #53 BYU vs. #54 Kansas State

Gansz Trophy Bowl: #55 Navy vs. #56 SMU, a game with a rivalry trophy because a 1950s Navy player was SMU's special teams coach in 2008.

Independence Bowl: #57 WKU vs. #58 Georgia Tech

New Orleans Bowl: #59 Texas Tech vs. #60 UCLA

New Mexico Bowl: #61 Illinois vs. #62 NC State, with the winner being named Most Average Program of All Time.

Famous Idaho Potato Bowl: #63 Houston vs. #64 West Virginia!

Cactus Bowl: #65 Air Force vs. #66 Maryland

Birmingham Bowl: #67 Ohio vs. #68 UAB

Little Caesars Bowl: #69 Duke vs. #70 FAU

Military Bowl: #71 Boston College vs. #72 Temple

Armed Forces Bowl: #73 Tulane vs. #74 San Diego State

One of the various attempts to get a Los Angeles bowl going: #75 Oregon State vs. #76 Arkansas

Myrtle Beach Bowl: #77 Marshall vs. #78 Arizona

Mobile Bowl: #79 Colorado State vs. #80 Buffalo

Cure Bowl: #81 Wake Forest vs. #82 Central Michigan

Redbox Bowl: #83 USF vs. #84 Ball State

Normal Sun Belt game: #85 Troy vs. #86 Arkansas State, which we'll schedule for a Tuesday bowl, since this game happens every Tuesday in November anyway.

Servpro Like It Never Happened First Responder Bowl: #87 Southern Miss vs. #88 Tulsa

Boca Raton Bowl: #89 Georgia Southern vs. #90 Wyoming, with the winner earning Steven Godfrey's soul.

Camellia Bowl: #91 Colorado vs. #92 Louisiana Tech

Frisco Bowl: #93 Toledo vs. #94 Fresno State

Arizona Bowl: #95 Syracuse vs. #96 East Carolina

Normal MAC game: #97 Western Michigan vs. #98 Miami (Ohio) … same story as Troy-Arkansas State, except a Wednesday bowl.

Normal Mountain West game: #99 Hawaii vs. #100 Utah State … same story as above, except a really late Friday bowl.

Raisin Bowl: #101 Vanderbilt vs. #102 Rutgers, truly a game that has shriveled up in the sun.

Seattle Bowl: #103 Georgia State vs. #104 Army

Silicon Valley Football Classic: #105 Young Earth University, with Hugh Freeze's pants at half-mast like normal, but this time in memory of Jerry Falwell Jr. Sorry to kick him while he's down, though he is into it. The opponent is #106 Middle Tennessee.

1948 Missouri-Kansas Bowl: #107 Charlotte vs. #108 San Jose State

1947 Kickapoo Bowl: #109 Coastal Carolina vs. #110 Nevada

1975 Pelican Bowl: #111 North Texas vs. #112 Kent State

1952 Shrimp Bowl: #113 Kansas vs. #114 FIU

1951 Pretzel Bowl: #115 Rice vs. #116 Eastern Michigan

1960 West Virginia Bowl: #117 NIU vs. #118 ULM

1946 Army Pacific Olympics: #119 South Alabama vs. #120 Old Dominion

1945 Spaghetti Bowl: #121 UNLV vs. #122 New Mexico

2001 Mineral Water Bowl: #123 Texas State vs. #124 UTSA

2002 Mineral Water Bowl: #125 Akron vs. #126 UConn

Pinstripe Bowl: #127 Bowling Green vs. #128 New Mexico State

Fenway Park Bowl: #129 UMass vs. #130 UTEP, with the loser being the team we all claim for Dynasty Mode in NCAA Football 21, a game we must speak into existence.
These results will frame the entire narratives for each team's 2020. Let it play out, then we'll just vote either Alabama, Ohio State, or Clemson the national champ, like usual.
* Spending like four minutes ranking them, second-guessing nothing along the way.
Bowl-Only Season scheduling option 3: Emotions
Vote for me, and I will give you a Texas vs. Texas A&M Texas Bowl, with the losing team having no other wins all year to fall back upon. Sold?
For real, the Sinful Seven's Goodreads reviews currently tower above anything on Oprah's book list, your high school summer reading list, and even Jon Gruden's Do You Love Football?!
One might argue this is due to sample size and less than 1% of the people who've purchased it happening to have entered reviews at that website so far. I would retort: numbers don't lie, pal.
If you liked this newsletter, have a friend subscribe, and take a peek at our Ko-fi!