What if college football worked like the Electoral College?
As in, let's give certain teams inherent boosts in every contest, simply because of arbitrary geography or whatever.
Subscribe to our podcasts, perhaps. One of them is for intelligent brains, and one of them is for enhanced brains.

And if you'd like to chill online with some friendly types, join our Discord via our Patreon.
---
Hello, the Electoral College is a pretty dumb idea.
Thank you for remaining subscribed to the Moon Crew newsletter!
Anyway, the Electoral College is a pretty dumb idea. It's bizarrely collectivist, has a gross history, makes a huge math mess, and privileges certain kinds of voters at the expense of others. It doesn't even accomplish the thing its defenders say it does, since it results in presidential candidates spending all their time in flip-floppy states, rather than big states or little states.
Let's see how dumb this idea would look if we applied it to something roughly as dumb as politics: college football. We'll give bonus points to certain teams in every game they play, force everybody else to overcome that nonsense margin, and then insist it has to be like this because it's been like this for some amount of time.
First, we'll need to figure out how many free points some teams get to enjoy.
How big is the Electoral College bias?
Depends on whom you ask. By giving freebie per-capita voting power to people in a bunch of small states, the Electoral College might amount to a bias as large as "3.5 to 4%" in favor of a specific party (well, the Republicans), if compared to the overall popular vote. You can find arguments that the bias is actually small, or maybe more like 2-ish%. There's also stuff like this:
Without an Electoral College, finishing with a one-point lead would = having a 100% chance to win. But with an EC, even a Republican trailing by a touchdown (so to speak) could win.
Republicans won the 2016 and 2000 presidential elections despite losing the vote by 2.1% and .5%. In 2012, Democrats won what sure felt like a down-to-the-wire race despite a breezy, 3.9% advantage. Everyone just knows and accepts the Democrats will win the popular vote, because they always do, unless they nominate John Kerry or it's the 1980s. Even if you think Republicans are usually pretty good, we can agree this is strange, right?
I think a 4% score boost for certain CFB teams is both a fairly reasonable Electoral College comparison and consequential enough to ruin college football more than it is usually ruined.
How many College Football Points would 4% translate into?
The average college football game in this millennium has had between 54 and 62 total points scored, depending on the season. Call it 60 for simplicity.
And 4% of 60 would be 2.4.
We'll round that up to three, not for simplicity, but for d r a m a. Any football gambler would tell you three is a critical number, since many games come down to field goals.
"No fair," one might complain. "The percentages and average scores suggest you should only award these teams one or two free points per game, not three."
Friend, there is no fair here.
Which states will get this Electoral College Football bonus?
Just to spread the wealth and make sure everyone gets to enjoy the Electoral College's benefits, let's try boosting blue states for a change.
All of these places have gone blue at least seven presidential elections in a row: California, Connecticut, Delaware, D.C., Hawaii, Illinois, Maine, Maryland, Massachusetts, Minnesota, New Jersey, New York, Oregon, Rhode Island, and Washington.
Therefore, college football teams from these states will receive three bonus points per game against teams from outside these states.
This is fair, yes? We have to make sure all Americans have chances to cheer for college football champions, not just Americans in states with Crimson Tides and Buckeyes.
Now let's look at how this might've changed things so far this millennium, using part of one conference as an example.
Power 5 teams have more chances to change the national level, so I'll only look at a few Pac-12 teams. But perhaps you could argue the Maine Black Bears or Delaware Blue Hens would've barreled into the ACC by now, if powered by Electoral College Football.
With an Electoral College Football boost of three points per game:
In 2005, USC gets a free shot to beat Texas, as that title game is going to OT. And 2004 USC now has a stronger case to be considered one of the best teams ever, spreading 21 points across seven games against Non-Blue State opponents and taking their BCS Championship victory over Oklahoma up to a 58-19 margin. The Trojans also gain a 2015 Holiday Bowl win over Wisconsin, flip another couple Ls into Ws, and force several teams into bullshit overtimes, including 2019 Notre Dame.

Cal steals wins from a ranked 2000 Illinois and ranked 2010 Arizona, plus 2002 Air Force, 2003 Colorado State, and 2017 Arizona. The 2018 Cheez-It Bowl probably flips from a TCU overtime win to a Cal win in regulation. And a handful of teams have to go to OT in order to re-defeat Cal.

UCLA lucks into unearned Ws against 2000 Wisconsin in the Sun Bowl, 2003 Colorado, 2007 BYU in the Vegas Bowl, and 2014 Utah. Via unmerited overtimes, they also might acquire victories such as the 2004 Vegas Bowl, won IRL by Wyoming, the political Electoral College's biggest statistical beneficiary.

Stanford grads, surely familiar with being gifted wonderful privileges, now get to enjoy horseshit victories over 2007 TCU and 2017 TCU (the latter in the Alamo Bowl), plus probably a win over Oklahoma State in 2011's Fiesta Bowl and maybe OT wins over ranked Notre Dame and Utah teams.

Washington now knocks 2002 Michigan out of the final top 10, steals the 2012 Vegas Bowl from Boise State, knocks 2014 Arizona out of the Fiesta Bowl, and so forth. And the 2008 Crapple Cup wouldn't have looked quite so crappy, because Washington would've already beaten a ranked BYU.

Congratulations to Washington State on probably beating a ranked 2003 Notre Dame, along with 2012 Colorado and 2013 Colorado State in the New Mexico Bowl. Wazzu also gains possible OT wins over a ranked 2007 Arizona State, 2014 Rutgers, and 2016 Boise State.

Oregon State now enjoys free wins over Nick Saban's 2004 LSU, plus 2005 Arizona and 2018 Nevada. OSU also might ruin Utah's best team ever, 2008.

Oregon now beats Minnesota in the 2003 Sun Bowl and 2017 Arizona State, plus possibly several other teams, including 2015 Playoff team Michigan State and Oklahoma in the 2005 Holiday Bowl. Oh, and 2010 Auburn now has to win the BCS Championship in overtime.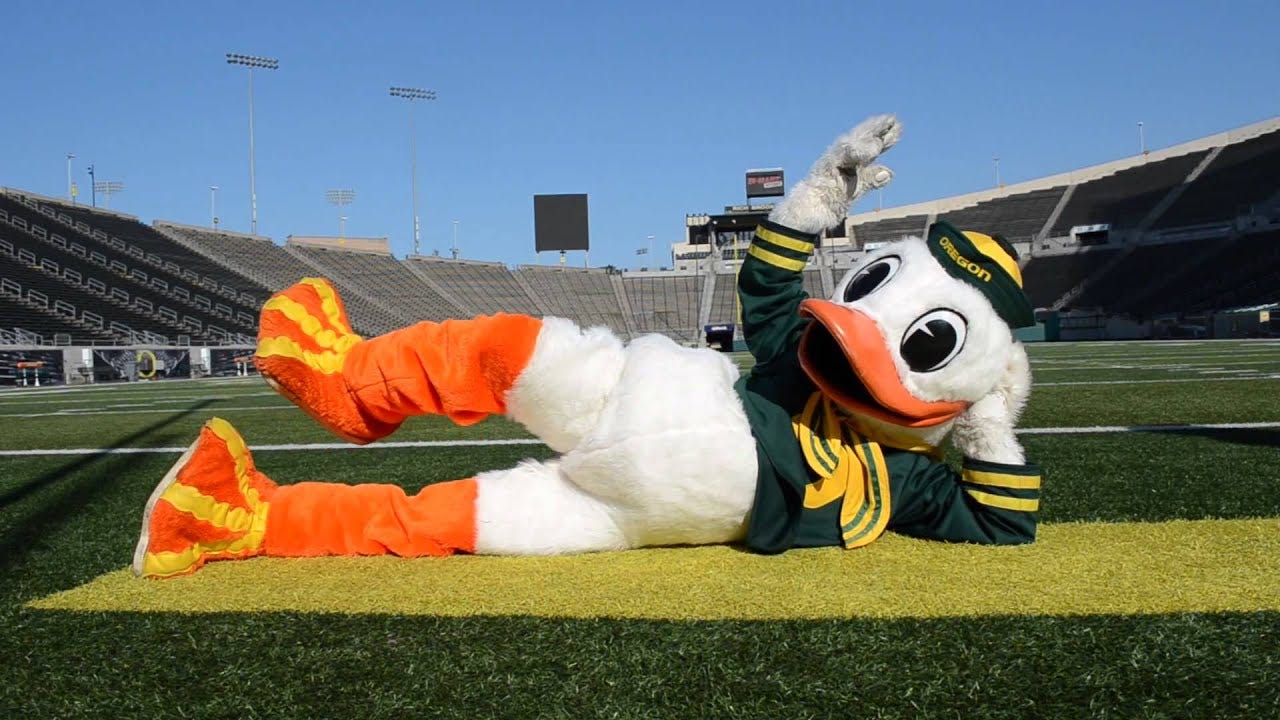 How much differently might we think of the West Coast if these eight teams had won as many as 13 more bowl games this millennium, perhaps including two more national title games?
In college football, perception matters about as much as reality, and our perception of these Blue State teams would improve, since their wins would be even bigger and their losses slightly less embarrassing. Adding about 15 or 18 points per season to each Blue State team (assuming five or six games per year against non-Blue State teams) would mean each jumping a bit in the polls and computer ratings.
And this doesn't factor butterfly-effect ramifications like unearned bowl eligibility, boosted confidence, more challenging tactics for teams on the wrong side of Electoral College Football, and slightly stabler coaching tenures.
There would be even longer-term benefits like better attendance, bowl payouts, TV contracts, and merch deals, which would mean more money for staffing and recruiting. College football powers tend to snowball wins into more wins, so changing games here and there could result in, say, 2020 USC recruiting like USC, not like Illinois.
So it's possible this ends up changing not just two national title games, but a bunch of national title games. We'd spend all our time making fun of the Big 12, not the Pac-12.
One thing is immediately clear: Nobody in their right mind would agree to face teams that benefit from Electoral College Football.
Arizona, Arizona State, Colorado, and Utah would leave the Pac-12. Maybe Fresno State, Hawaii, San Diego State, and San Jose State would replace them.
Notre Dame would drop its Stanford and USC rivalries. Teams from the ACC, Big 12, and SEC would never schedule Blue State teams. The Big Ten would sweat itself into a puddle over whether to end its Rose Bowl contract, ultimately deciding to continue in the name of valor (aka money).
In order to court non-conference games, Blue State teams would have to pay premiums even to FCS teams. USC and UCLA, who don't schedule FCS opponents, would end up playing non-con games against nobody but specific Mountain West teams every year, then seeing if anyone outside that zone would agree to a bowl game.
And remember, we only applied Electoral College Football to eight teams in one conference. Every team at every level in California, Connecticut, Delaware, D.C., Hawaii, Illinois, Maine, Maryland, Massachusetts, Minnesota, New Jersey, New York, Oregon, Rhode Island, and Washington would also get this three-point benefit.
Even UConn!
Think of the nationwide griping, if hundreds of teams got free points at the expense of hundreds of other (usually better) teams. SEC Media Days would expand from a four-day event to an eight-month event, with every day of the offseason spent complaining about Electoral College Football.
"This tilted field is unfair," the SEC would say. "We have to work extra hard to rank ahead of certain teams, simply because of where those teams are located."
"Stop making fun of us," the Big 12 would meanwhile say. "Most of the Pac-12 gets free points in every game, and that conference still barely wins more championships than we do!"
This would be a reasonable thing for the Big 12 to say.
In something as consequential as college football, nobody would tolerate this stupid system.
It empowers maps instead of humans, is needlessly complex, is unfair, adds both tactical and psychological challenges, installs long-term roadblocks, and means enormous portions of the country are ignored.
Yeah, that would be pretty bad.
Actually, if we install Electoral College Football, the funniest result might be this: Alabama immediately flipping blue.