The Top Whatever: Jeremy Pruitt looks like...
The Top Whatever is your weekly ranking of college football things that must be ranked.
1. Headgear, by Spencer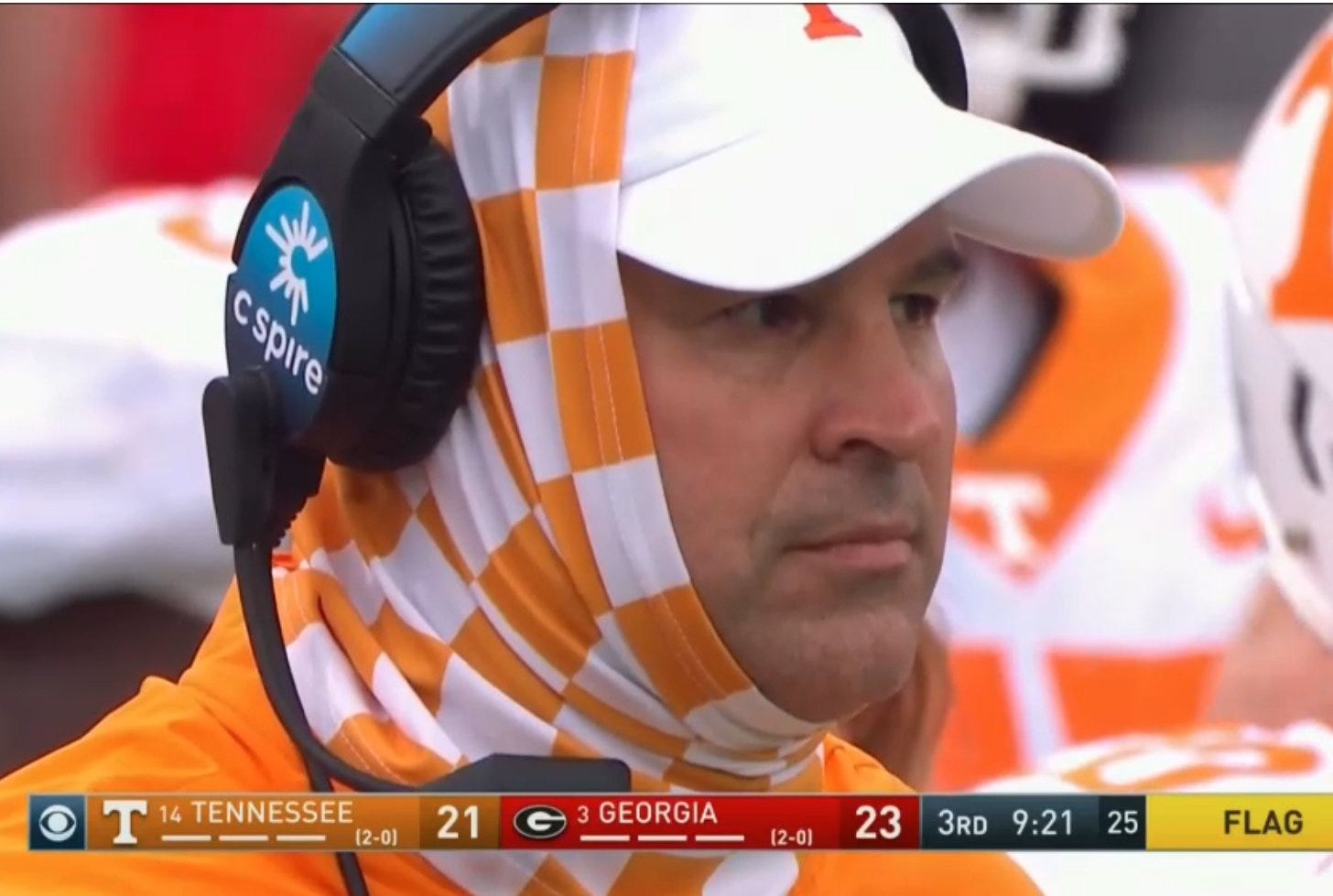 Let's go:
Jeremy Pruitt looks like a sentient circumcised Vol truck stop beer coozie. He looks like a wildly unpopular Fortnite skin called "Bubba of Arabia."  Jeremy Pruitt looks like he tried to put his head through the leg of your auntie's yoga pants. Jeremy Pruitt looks like a minor character in Game of Thrones called The Duke of Stupid. Jeremy Pruitt looks like a DJ. This DJ would be named Dip-lo or Skoal-ex. 
Jeremy Pruitt looks like a caterpillar about to tuck into a checkerboard cocoon. When he comes out, he'll be a beautiful pontoon boat. This is the dream of all people who live in Tennessee for more than three weeks, and we should be proud he's about to make it happen. 
Jeremy Pruitt looks like the loneliest dude at Burning Man. Jeremy Pruitt looks like an undercover cop pulling up to a snowboarding halfpipe asking where he can get some "chronic." Jeremy Pruitt looks like he's about to rob the Mapco in honor of General Neyland. Jeremy Pruitt looks like a Batman villain whose superpowers get stronger the closer he gets to a Rally's. Jeremy Pruitt looks like a sea cucumber with a concealed carry permit. 
Jeremy Pruitt looks bad, and I think it's funny, because it is, and things are bad right now, and all we can do is laugh about it. 
Jeremy Pruitt looks like the first dude out in every paintball game. Jeremy Pruitt looks like the laziest worm in the Tremors universe. Jeremy Pruitt looks like he just shot a propane tank with a bow and arrow after he mistook it for a 10-point buck. Jeremy Pruitt looks like a kid stuck in a festive drain pipe. Jeremy Pruitt looks like a well-known Gatlinburg nuisance bear with his head caught in a windsock. Jeremy Pruitt looks like a charter member of a hilljack anarchist cell called Red Man-tifa. 
Jeremy Pruitt looks incredible here. I will hear no other opinions. 
---
For additional CFB and CFB-adjacent content:
Subscribe to Split Zone Duo

Subscribe to Shutdown Fullcast

Join us in Discord

Have a tremendous Monday
---
2. Mike Leach scoring two points, Richard 
Mississippi State's offense was held scoreless. Kentucky mercifully gave the Bulldogs a pair of points by intentionally kicking the ball out of the end zone on a botched punt.
As it stands right now, the jig is very much up for this permutation of Leach's air raid. The opposing game plan is simple: 
Rush three or four defenders, but no more than that 

Force Mississippi State to execute repeatedly 

Proceed to let Mississippi State at some point stall out
It happened over and over again on Saturday night. One would think Leach has to adjust at some point. That might mean simply running the ball more often. That's not exactly his thing though … ask the Washington Huskies.
3. Ole Miss' daring offense, by Alex
Ole Miss went shot for shot with Alabama for three and a half quarters, pulling its weight in a game that had 1,370 yards of offense and was, at one point, 42-42. Lane Kiffin called an aggressive game, working in lots of deep passes into highly trafficked areas and trusting Matt Corral, Kenny Yeboah, and Elijah Moore to make it work. (It often did, with help from an unusually shoddy group of Bama defensive backs.) He also kept his offense out for a couple of fourth downs and was rewarded both times.
For all his Kiffin-ness, he is one of the country's best offensive planners, and he ruined Nick Saban's whole week.
4. Georgia, by Richard 
Tennessee wasn't ready for prime time. In a script eerily similar to what usually plays out when a Saban assistant tries to play Saban Ball, Tennessee tried to hang with Georgia Ball, hopelessly unable to do so over 60 minutes. 
Georgia is the best team in the country at playing this specific type of game. Their defense is elite. They're stunningly competent (that's not shade; Kirby Smart throws a lot at those dudes), depressingly deep (only three players played more than ⅔ of the snaps in this game), and frighteningly talented (stars matter). Tennessee gave the ball away three times on third down. It was insult to injury. You can't play with these Dawgs if you're gonna beat yourself. 
Georgia's offense did what it was supposed to do, and I don't want to take anything away from them. This team does this better than any in the SEC right now. They have successfully asserted themselves on three opponents. Now: can they do this against Alabama?
5. Mack Brown, by Jason
It's not that "Texas, if you need a new head coach, maybe you should look into this whippersnapper at UNC" is a joke you can make.
It's that this joke has already been so easy to make for a year now, with no end in sight.
Mack Brown's Heels are ranked #5 in the country, the program's highest ranking since 1997, when its coach was Mack Brown, who left for Texas.
6. The dogs at Pitt-Boston College, by Alex
Pitt lost in overtime on a missed extra point, the umpteenth Pitt loss under Pat Narduzzi that might well have been averted had he eschewed a kick for an attempt to score more points. Reached for comment on Narduzzi's latest late-game issue, a dog in the stands did not reply, because it was a cutout and could not actually speak. 
7. Texas fans' acute meme awareness, by Alex
Nobody wants to get memed. Depending on your role in the college football universe, you might take different precautionary steps. If you're a coach, you might try not to lose by a bunch of points. If you're a TV analyst, you might tread carefully when picking games in the studio.
If you're a fan in the stands, there's little you can do if the production truck decides it's your time. The only thing you can do is break the fourth wall with confidence. And on Saturday, moments after Texas lost to Oklahoma, this young woman exemplified the kind of agency I'm talking about: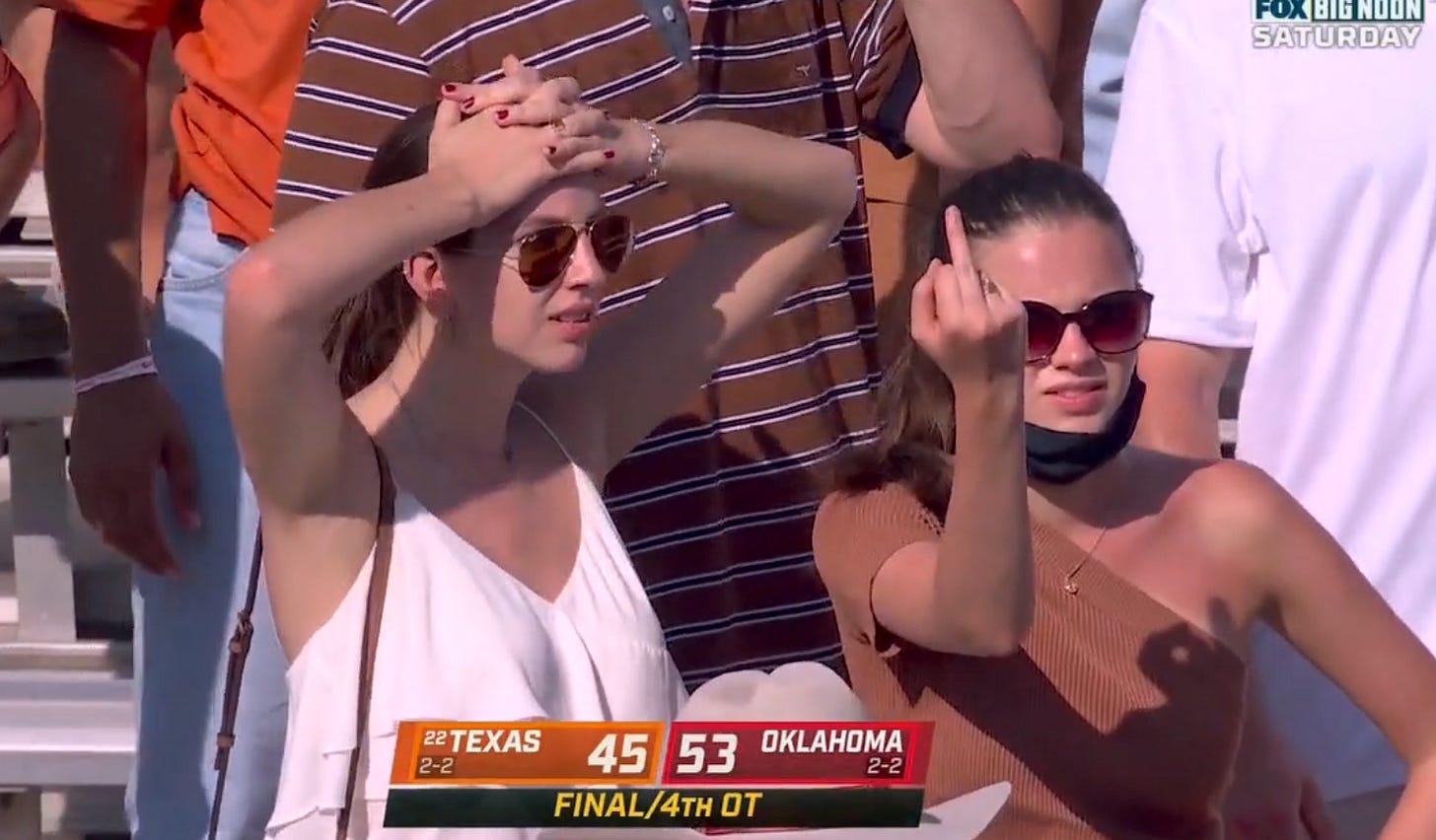 Her friend on the left? She's just sad. But our protagonist? She's taking control of her fate and reclaiming her time, no matter what Fox's producers might have preferred. "You want a shot of a sad Longhorn in a devastating moment? Here, have a mad Longhorn."
Texans fans have a track record of 99 Overall Meme Awareness. For instance, this guy gets it ...
… and so does this woman, who accepts her fate and proceeds anyway: 
It has not been a good 10 years to be a Texas fan, particularly not one who chooses to watch in person. But Texas fans can't control their team's performance. They can only control how the rest of us process their pain. At this rate, the Horns' memeability might be up there with the Noles and Vols themselves.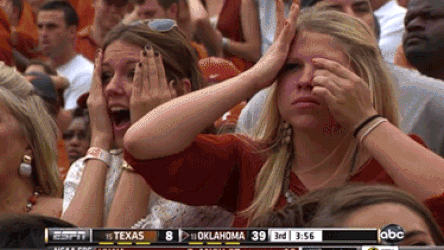 8. Texas A&M, by Spencer
At first, I was tempted to make the bitter argument that the Aggies might not want to celebrate too much after beating a Florida team with what might turn out to be the worst defense the Gators have had in over a decade. 
That wouldn't be totally inaccurate. Mond was on, but got a huge assist from a defensive line that never pressured, a secondary incapable of picking up receivers in man or zone coverage, and linebackers running no-contact conditioning drills in the middle of a live game. I hope that helped them get better at games besides the one they were supposed to be playing against Texas A&M. 
Then again, this is 2020, and I want everyone to celebrate the few things they can as hard as they can. Cue applause, Aggies. Make all the WHOOPS you need to.
Kellen Mond is a being of pure light after this weekend, one when he made no mistakes in throwing for 338 yards and three touchdowns and led the Aggies to their biggest win in the Jimbo Fisher era. After years of Expectations™ that Mond would blossom into one of the best quarterbacks in the sport, he might be there. 
There's a whole host of horrors awaiting the Aggies. They have to play Ole Miss, a team that hung over 600 yards on Alabama, and LSU, a team almost good enough to beat Mizzou. They have to avoid being the rebound win for a flailing Miss State that just put up two points, and also have to face Auburn, the great ruiner of all things. 
They still have to play Arkansas. The Razorbacks might be capable of anything, whether losing to Texas A&M by 40 or erupting for a soul-breaking win over the Aggies as both teams turn the ball over seven times and both coaches check themselves into the hospital for exhaustion afterward.
LSU might even decide to play 11 men on defense. It could happen, maybe. 
There's no telling how any of that will work out, or whether you'll even be able to play the games. Take this on-the-board ass-kicking and party with it as long as you like. The board says you beat the #4 team in the country, and the board is never, ever wrong. 
As for Florida, Dan Mullen responded to a question about the generous crowd at Kyle Field by suggesting the Gators needed a full-capacity crowd for their next home game. That won't happen, per Florida, so any actual concern about Florida turning itself into a literal Swamp of airborne disease can be dismissed. (At least, any more than usual.) 
The real question: Why would you invite more people to watch the embarrassment that is Florida's defense?
9. Houston finally getting to play football, by Alex
Time after time, the Cougars tried to start their season. Time after time, the ongoing reality of a global pandemic got in their way: 
The sixth time was the charm. Houston hosted Tulane for a fittingly bizarre debut.
UH beat the brakes off the Wave. The final was 49-31, and yards per play were 6.3 to 3. Tulane entered with one of the most productive rushing attacks in the country, and Houston held it to 1.6 yards per carry. Tulane won the turnover battle an astonishing 5-0 and at one point led 24-7, with 21 of those points handed over directly by UH turnovers. If you assume Houston will not usually lose the turnover battle 5-0, you could look at the dominance of the Cougar defense (six sacks, 12 TFLs) and WR/KR Marquez Stevenson's 223 all-purpose yards and decide this team might be awesome.
10. Arkansas getting caught in a video game glitch, by Spencer 
Officiating in any sport is hard. In basketball, it means evaluating a weighty rule book governing the actions of 10 gigantic men moving at top speed. That's hard! In football, it means doing that with 22 people all trying to hit each other at the same time. A football referee has to govern a bar fight that happens over a hundred times a game. That doesn't seem hard. It seems impossible. 
If a football ref screws up something, it's mostly a matter of design determining outcome. The game requires the impossible from flawed humans in an equally flawed game based on violent things happening at high speed. 
So it's not remarkable that when Auburn's Bo Nix decided to break football by spiking the ball backward on third and one with just 20 seconds left, something in the basic code of football started smoking and caught fire. The SEC's explanation is totally fine because the rules, when stacked just so against each other, can make a calm, present sense out of the chaotic past. 
In reality, the rules are just duct tape holding all this together. The refs blew the whistle dead because — in the span of about a second — they had to recognize an impossible series of events. 
Nix botched everyone's timing by fumbling. Please imagine a huge exclamation mark appearing above everyone's heads, including the officials, who immediately began looking for who would recover the ball. 

Nix did, then spiked the ball. If you are not a pathological liar, then you admit to hypothetically doing the same thing the refs did here: Blowing the play dead after a clear spike. That's a reflex, one every ref with decades of experience has done hundreds of times.  

Almost instantly, everyone realized the second problem. That problem was Nix, a player who unlike all but two or three QBs in the history of the game somehow decided TO FREESTYLE ON THE DAMN SPIKE. I can explain football's ridiculous demands on officials. I can describe its chaos. No one can explain why the hell Nix threw a goddamn spike backward like he was winging a spikeball in the backyard. Madness has no explanation. 
This is the part in the video game where you jump and get caught in a glitch. It's not you, Arkansas. It's the code. Unfortunately, you lost the chance to unlock a new achievement, and have to wait a week to restart. 
Last: Ole Miss' continued employment of D.J. Durkin, by Alex
There are hundreds of defensive coordinators who could have given up 63 points to Alabama, and most of them didn't oversee a program with a sometimes-abusive culture that left players in fear of speaking out for their safety and allowed one to die.
Kiffin could've hired one of those coordinators instead, and it is almost literally impossible Ole Miss have done worse in this game. Also, Ole Miss wouldn't have Durkin supervising college students. 
---